---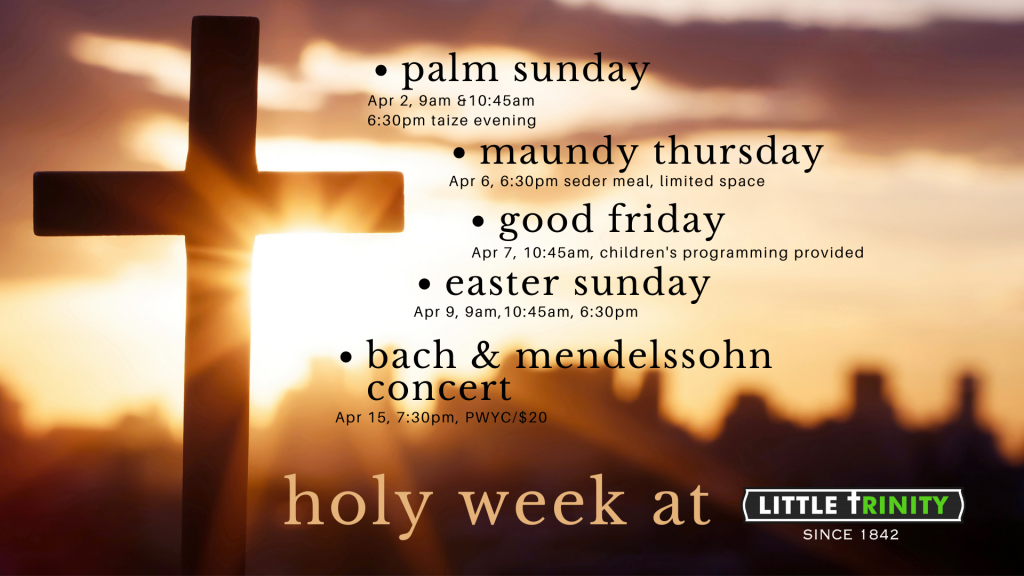 Special Notes:
All worship services (Palm Sunday, Good Friday and Easter Sunday) are in person. (10:45am services will be online – links to come.)
Maundy Thursday Seder Meal has limited space (120 seats) and you can register for free tickets at Eventbrite below by Apr 2. Please ensure there is a ticket for each person in your group.
Good Friday's service has concurrent childcare and nursery (Age 0-Gr 5).
The Bach & Mendelssohn Concert is at Little Trinity! Details here.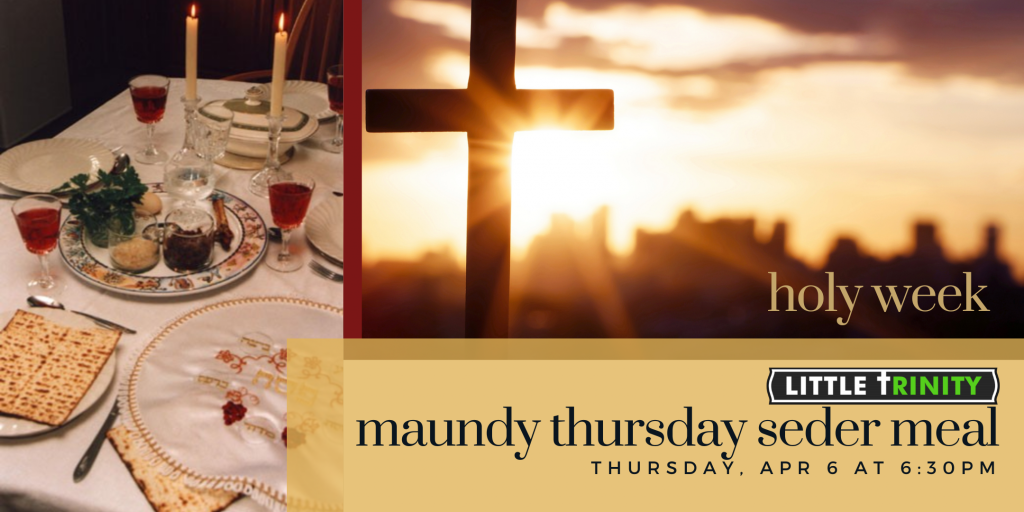 ---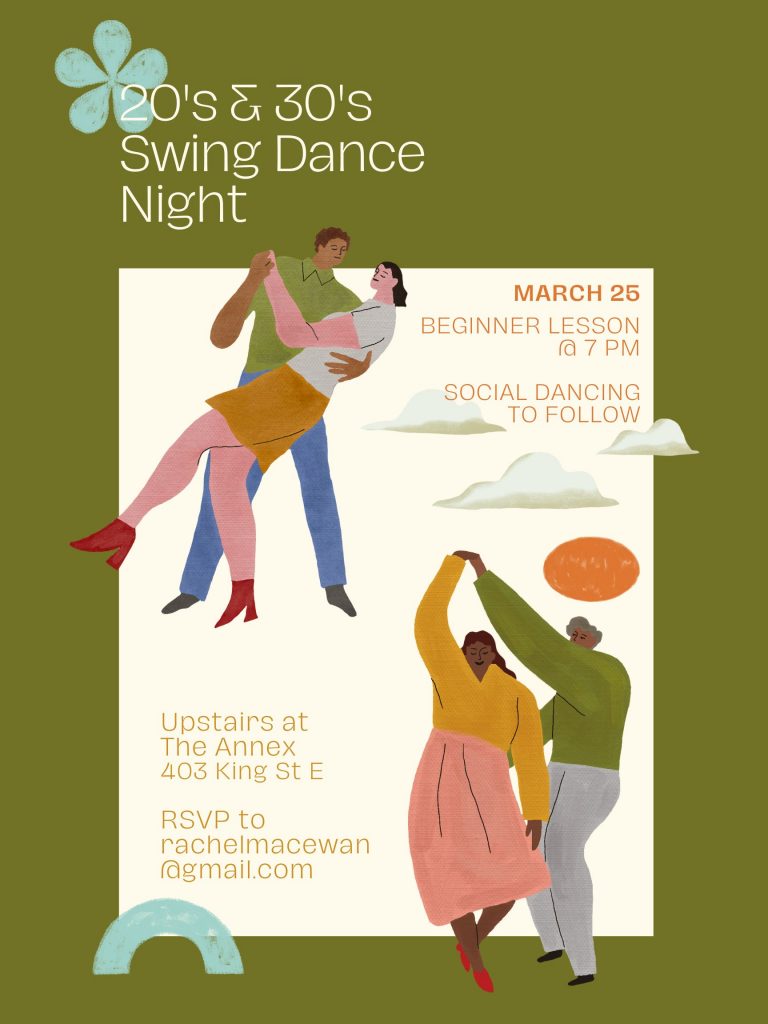 ---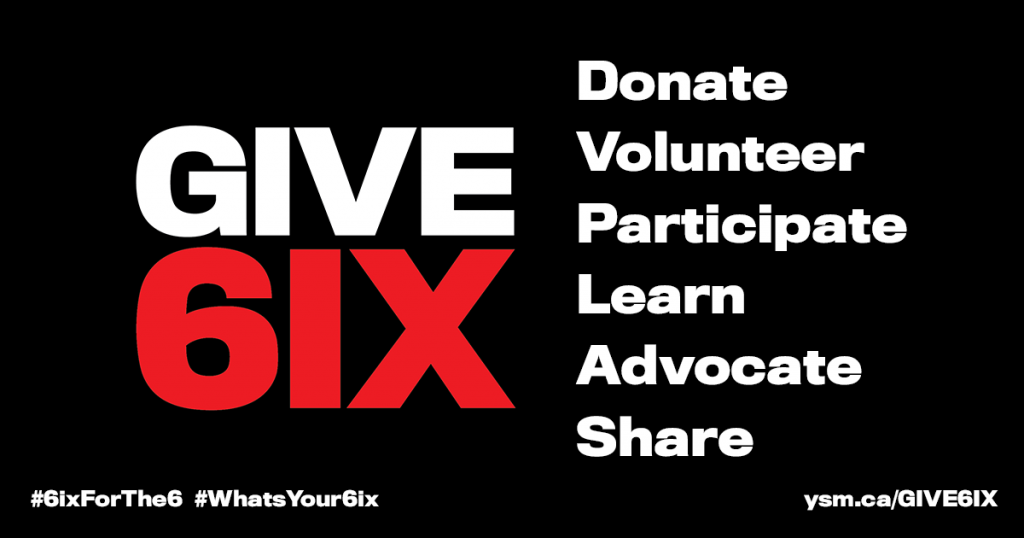 Lent 2023 (Feb 22-April 8) – As we turn our hearts to pursue the justice of King Jesus this upcoming season of Lent, a time traditionally given over to prayer, giving, and fasting, we're inviting members of the Little T community to prayerfully commit to 'Giving 6ix' this Lent. Give6ix is an initiative by Yonge Street Mission, who will be partnering with us in our justice discernment work, to ask people to do or give 6 things (any 6 things!) in order to help someone struggling in Toronto, "the Six", right now. You can choose one of the options listed on the Give6ix website, or come up with your own '6ix' acts of love for your neighbours. What's your 6ix? See our Justice Corner to find out another way to participate – here.

For more information contact Karen (), who will be giving 6 items on the Food Bank Wish List for each of the 6 weeks of Lent. #WhatsYour6ix?
---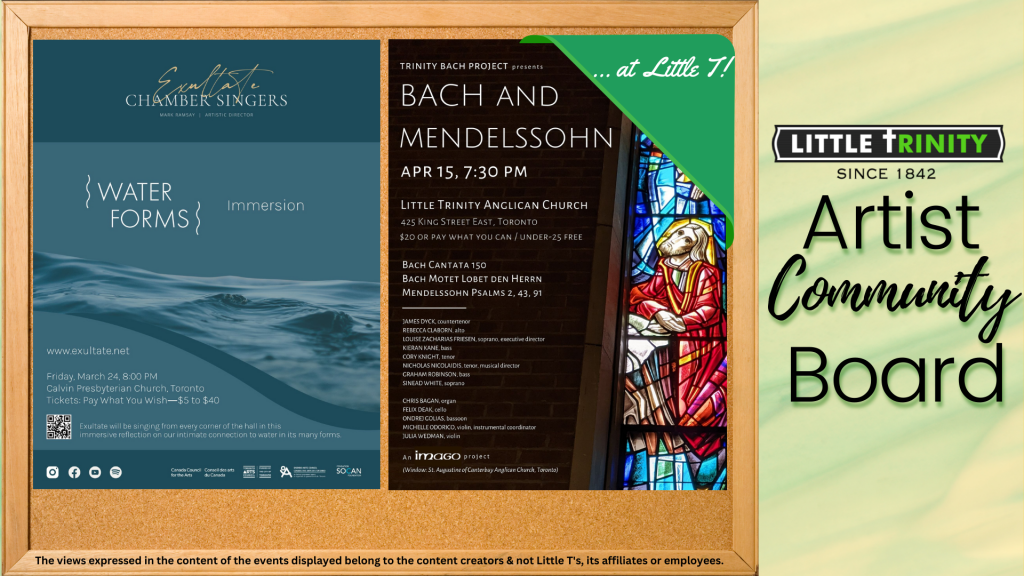 Water Forms – Immersion, Exultate Chamber Singers [Choir Performance, Rachel MacEwan, Caleb Jonker], Fri, Mar 24, 8pm, Calvin Presbyterian Church, PWYC $5-40. www.exultate.net
Bach & Mendelssohn, The Bach Project [Sacred Choral & Instrumental Performance, Louise Zacharias, Nicholas Nikolaidis], Sat, Apr 15, 7:30pm, Little Trinity Anglican Church, PWYC Suggested $20.
---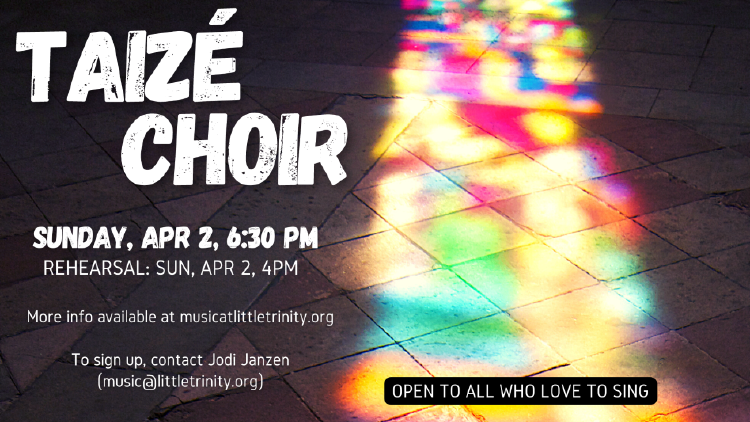 Sun, Apr 2, 6:30pm (4pm Rehearsal) – Join our choir for this special musical evening as we enter Holy Week. Sign up by emailing Jodi () and find out more information at musicatlittletrinity.org.
---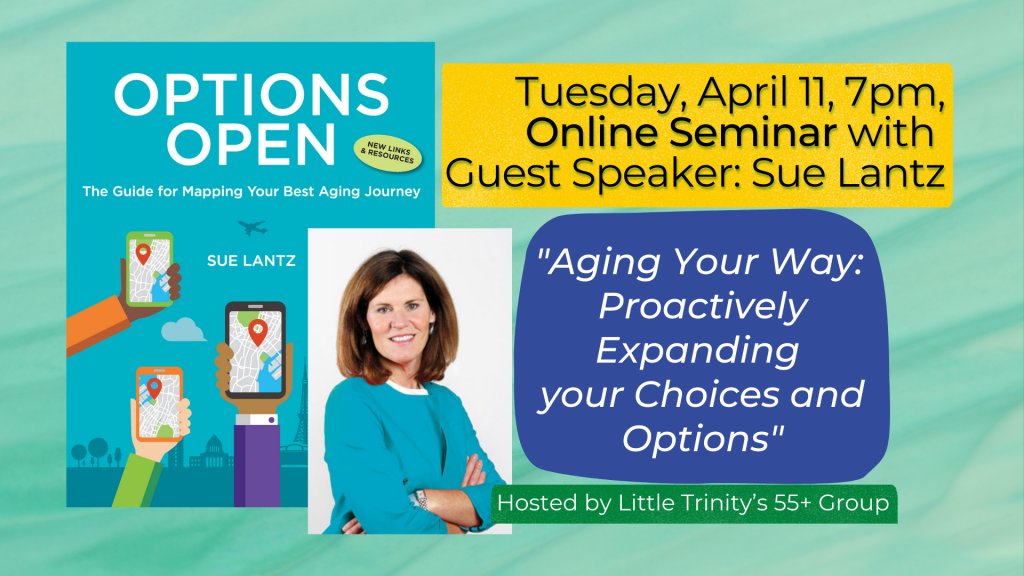 Tue & Wed, Apr 11 & 12: We have two exciting events coming up!
On Tuesday, April 11th at 7 pm, Little Trinity's 55+ group is pleased to host an online seminar titled Aging Your Way: Proactively Expanding your Choices and Options. Our guest speaker Sue Lantz, will talk about proactive strategies that enable you to expand your choices with your health, housing, social networks and caregiving teams.
On Wednesday, April 12th at 7 pm, Little Trinity's Support Group for Adult Children of Aging Parents is pleased to host an in-person seminar by Sue Lantz, entitled Strategies for Creating sustainable and Balanced Caregiving Teams. Sue will lead a presentation and conversation about strategies for preparing and maintaining the most balanced and sustainable caregiving arrangements in ways that support an older adult to achieve their vision for successful aging while also ensuring caregivers are supported as well. Sue Lantz, BA, MPA, is the founder and managing director of Collaborative Aging and author of Options Open: The Guide to Mapping Your Best Aging Journey. She has a lifetime of experience in the fields of aging and disability, shaping policy, creating initiatives, advocating and educating to enrich lives and communities.
Sue's guidebook is highly recommended but not required reading for the seminars. The book will be available at the in-person session for the special group rate of $20. If you would like a copy but won't be at the in-person session, or the cost is a barrier, please contact James Beck ().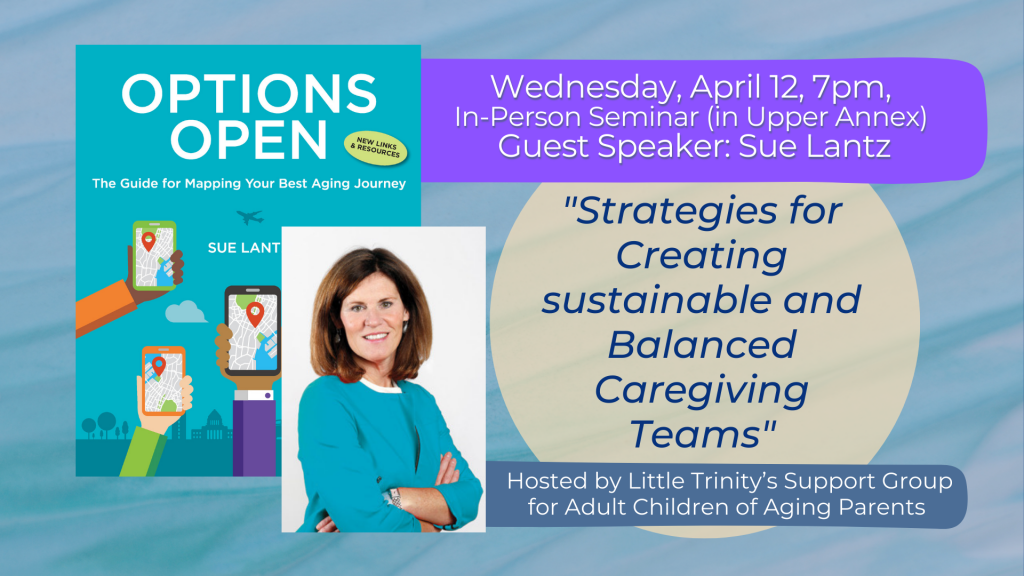 ---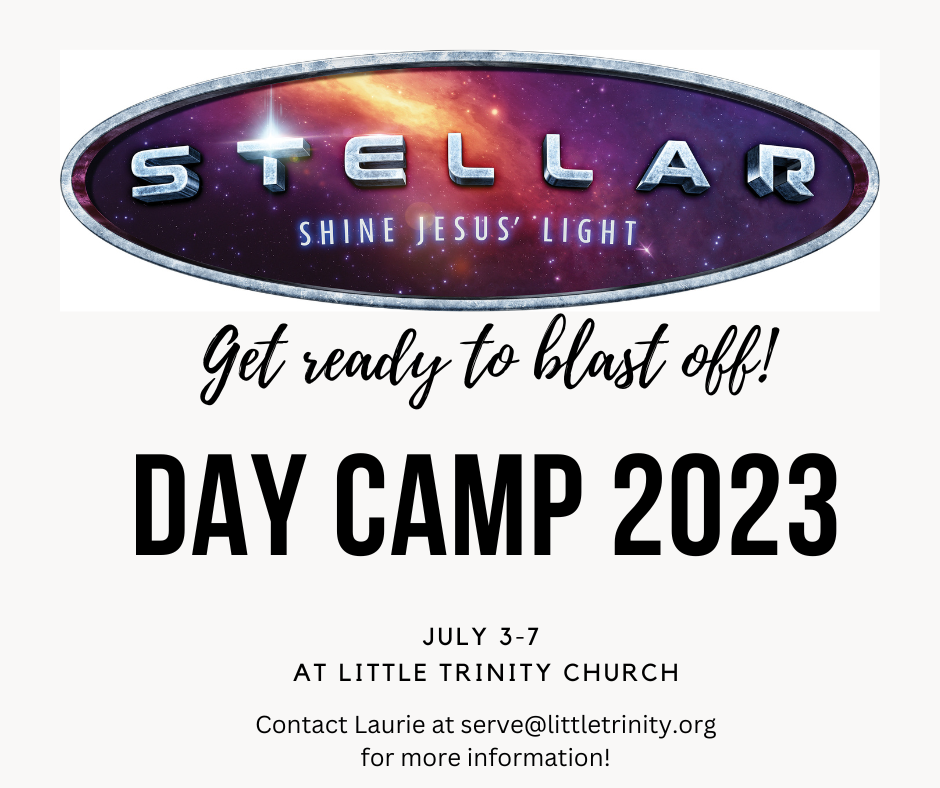 ---