Click on the image or the button below to watch our service live on YouTube, starting at 10:45am: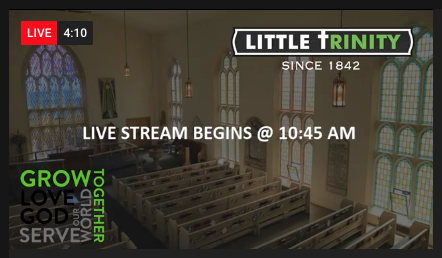 Everyone is welcome at Little T! Come as you are and join us.
Currently we are livestreaming our service on our Youtube channel shown above. Below is our regular pattern of gathering for worship on Sundays.
Sunday morning services: 9:00am & 10:45am
These services are identical in format and content. A mix of hymns and contemporary music is included along with biblical sermons. We alternate Sundays between BCP, BAS and an All Ages Communion service. Children and Youth programs are provided for each service.
Check out our bulletin (see above) to guide you through the worship service.
Connection cards are located in the pews if you'd like to find out more or get connected in Little T.
Evening service: 6:30pm
Come join us for a more intimate and relaxed service with contemporary music and biblical sermons.