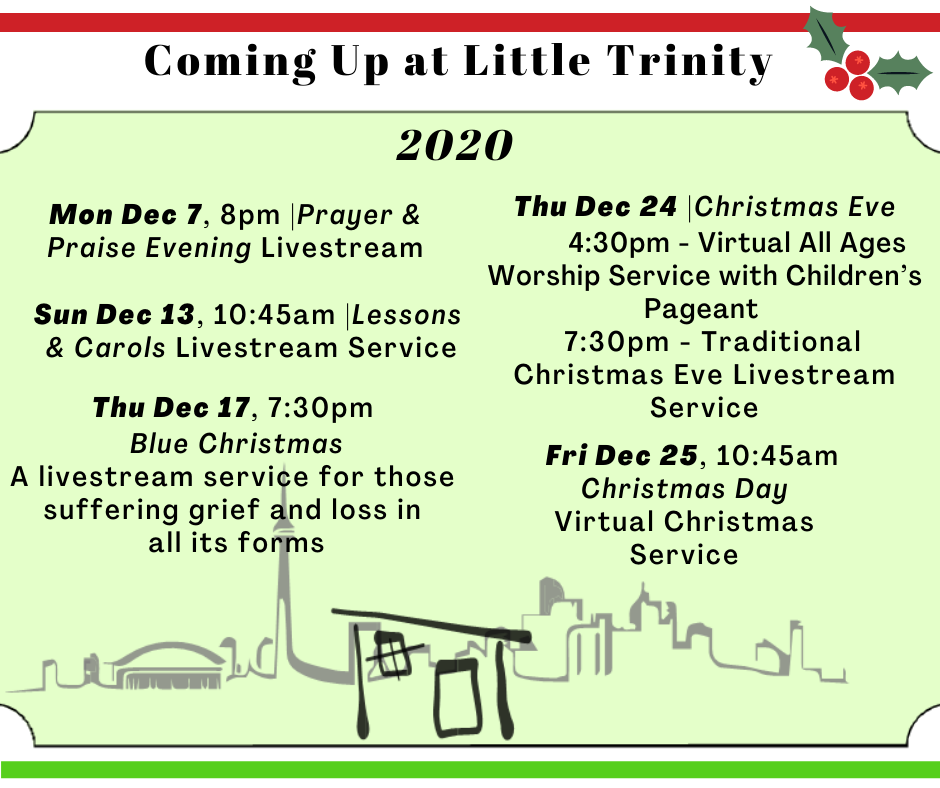 Prayer & Praise Night
Mon, Dec 7, 8-9pm – We will be hosting another evening of prayer and songs to God, based on the themes of Advent, livestreamed from inside the church space on YouTube. Details & links to come on Grapevine.
+55 Coffee Group
Wed, Dec 9, 10:30am – You are all invited to the 55+ group on Wednesday when we will have the privilege of hearing from our own Orvin. He will be giving us something of his journey to LT as well as some thoughts about the use of the internet and fraud. Bring your questions! See Grapevine for the link.
Blue Christmas
Thu, Dec 17, 7:30pm – A livestream service especially for those suffering grief and loss in all its forms. As our Advent wreath reminds us, we do have a hope even if it is at times little more than a candle flickering in the night. Details & links to come on Grapevine.
Carols by Candlelight
Sat, Dec 19, 7pm – This year, we are partnering again with Mike Janzen for his annual concert on Dec. 19th.  Because masks are required by everyone in Little T, Mike and friends will be livestreaming this event from a studio.  To help offset his costs, the event is Pay What You Can with a suggested donation of $20 per family. Further details to come on Grapevine.